Itinerary
Day 1, Arrive in Chengdu
Arrive in Chengdu – the capital of Sichuan Province, welcome and transfer to your hotel to check in. The home of pandas, face changing, and spicy food, Sichuan reflects China's laid back lifestyle. Have the rest of the day free at leisure, or go for a leisurely stroll along the traditional alleyways of Chengdu's old neighborhood and explore the reminders of Chengdu's past. Deluxe Room at Ritz-Carlton Chengdu for 2 nights.
Day 2, Chengdu
Visit Chengdu Panda Base in the morning. Have a close-up look into the life of the adorable Pandas and Panda cubs, alongside other endangered wild animals.
After lunch, visit Jinsha Site Museum, and learn the history and civilization of the ancient Shu Kingdom. As one of China's most significant archaeological discoveries in recent years, Jinsha Site Museum houses a large number of valuable relics unearthed from the site, as well as the ancient city ruins. Afterwards, enjoy tea and leisure at the popular People's Park as the locals do, or join the local people to learn how to play "mahjong." For the evening, watch a Sichuan Opera performance and enjoy the magic "face-changing."
Day 3, Chengdu /Mt. Emei
This morning, drive to Leshan (~160km /99mi, 2.5hrs). En route, make a visit to Jiajiang Thousand-Buddha Cliff. Walk at the stone-paved path along Qingyi River, and appreciate the ancient carvings, inscriptions and poems.
Visit Leshan Giant Buddha in the afternoon. Carved out of a whole cliff during Tang Dynasty (618-907), Leshan Giant Buddha is the largest stone-carved statue of Maitreya in the world, and a UNESCO World Heritage site since 1996. Take the cruise boat to enjoy the impressive views of the Buddha statue and the picturesque surroundings. Afterwards, continue the drive to Mt. Emei (~40km /25mi, 45mins). Deluxe Garden View Room at JZ Hotel Emei for 2 nights.
Day 4, Mt. Emei
Early in the morning, take the cable car uphill to the Golden Summit of Mt. Emei (3,079m /10,101ft). Explore the ancient temples, and take in extraordinary views of a sea of clouds and the mist-shrouded peaks. A UNESCO World Cultural and Natural Heritage Site, Mt. Emei is one of the four sacred Buddhist mountains in China, and has long been famed for its rich Buddhist culture, great geological landscapes and ecosystem.
This afternoon, take the cable car downhill, and visit the historic Wannian Temple on the hillside. Explore the peaceful temple complex, and visit the Beamless Brick Hall from Ming Dynasty. At the foot of Mt. Emei, take a stroll at Baoguo Temple if energy permits.
Day 5, Mt. Emei /Kangding
After breakfast, drive northwest to Kangding (~230km /143mi, 3hrs). En route, stop at Luding for lunch, and opt to visit the historic Luding Bridge. Arrive at Kangding (~2,600m /8,530ft) in the afternoon. If energy permits, stroll around the peaceful Kangding town, and visit the city square where local people gather for dancing and singing every evening. Executive Room at Kangding Gesanghua Hotel Executive Room at Kangding Gesanghua Hotel for 2 nights.
Day 6, Kangding
Kangding City, the capital of Ganzi Tibetan Autonomous Prefecture, is nestled in a narrow valley, with high mountains on both sides and the raging Zheduo River running through. It was once a trading town along the ancient Tea and Horse Road, and in modern times, the popular folk song Kangding Qingge (Kangding Love Song) has made this small town widely known throughout the country.
Visit a local produce market in the morning, and have a first-hand experience of local people's daily life. Afterwards, transfer to Mugecuo Scenic Park (~20km /12mi, 40mins). Mugecuo Scenic Park, one of the main attractions of Mt. Gongga, is known for its picturesque alpine lakes, dense forest and precipitous peaks. Go for a pleasant walk around the charming Seven-Color Lake and the nearby meadow. Return to the town in the late afternoon, and if time permitting, visit one of Kangding's three monasteries – Jingang Monastery.
Day 7, Kangding /Danba
Today, continue your expedition further into the Tibetan land of west Sichuan by driving to Danba County (~230km /143mi, 5-6hrs). Along the way, you will drive through Mt. Zheduo Pass (~4300m /14,108ft), Xinduqiao Town (~3300m /10,827ft), Tagong and Bamei County. Before you reach Xinduqiao Town, there is a stretch of 10km /6mi tree-lined road, which has been a dreamland for photographers. The peaceful Tibetan villages orderly-scattered along the road, the straight white poplar and silver birch trees standing before villages, the quaint stone and wooden bridges over the twisting river, and the rolling green mountains are making the most beautiful picture.
Your next stop is Tagong Monastery, a well-known Tibetan Buddhist monastery of Sakya sect. Tagong Monastery has a history of over 1000 years, and is one of the most important pilgrimage destinations for Tibetans in the Kham region. Have an easy walk on the picturesque Tagong Grasslands, then continue the drive down to the green valley of Danba County (~1,800m /5,906ft). Deluxe Room at Danba Jimei Hotel
Day 8, Danba
Have a full day to explore the legendary Danba Tibetan villages that are perched in the green mountains, including Jiaju Village, Suopo Village, and Zhonglu Village if time permits. The Tibetan villages in Danba region are famous for their soaring watchtowers and the traditional fortress-like houses. Those stone watchtowers were built hundreds of years ago for purposes of defenses, transmitting messages and storage. Step into a local home, and chat with the hospitable family members about the village life and their unique customs. If energy permits, climb one watchtower to take in a sweeping view of the picturesque valley, and listen to your guide explaining the stories and history of the watchtowers.
If today is May 7 (April 15 on lunar calendar), spend the afternoon at Jiaju Tibetan Village, and join the local people to celebrate their annual Horseback Racing Festival. Watch the horseback racing, and meet local horse riders.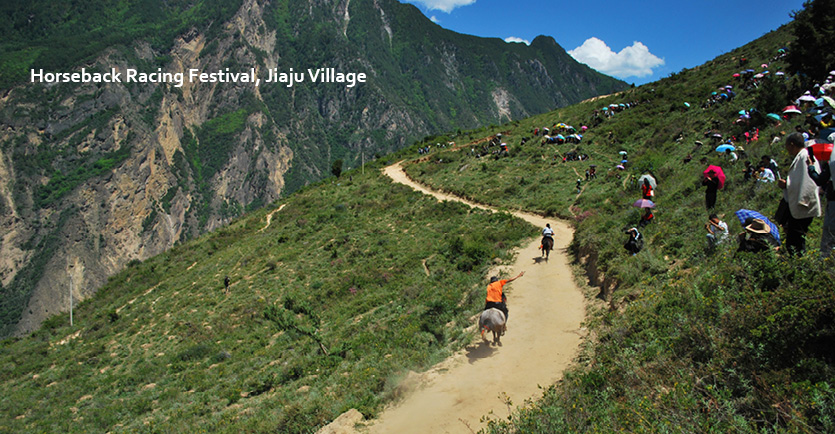 Day 9, Danba /Maerkang
Drive in the idyllic and scenic valley of Dadu River, and head north to Maerkang (~230km /143mi, 5hrs), the capital of Aba Tibetan & Qiang Autonomous Prefecture. En route, stop at Zhibo Village, rest and take in views of the Zhibo Watchtower, a 43meters high stone watchtower built during Qing Dynasty.
Upon arrival in Maerkang, tour Xisuo Village and learn about the unique traditions of Jiarong Tibetans. Have a visit to Zuokeji Chieftain Mansion, a masterpiece of local architecture. If time permitting, head to explore Changlie Monastery, and atop the mountain, take in panoramic views of the Maerkang town and the valley. Guest Room at Maerkang Jiarong Hotel for 1 night.
Day 10, Maerkang /Jiuzhaigou
This morning, head north to Hongyuan (~190km /118mi, 3hrs). As you drive, the landscape will change dramatically from lush green forests to vast grasslands, and en route you will pass by Moon Bay and Hongyuan Grasslands.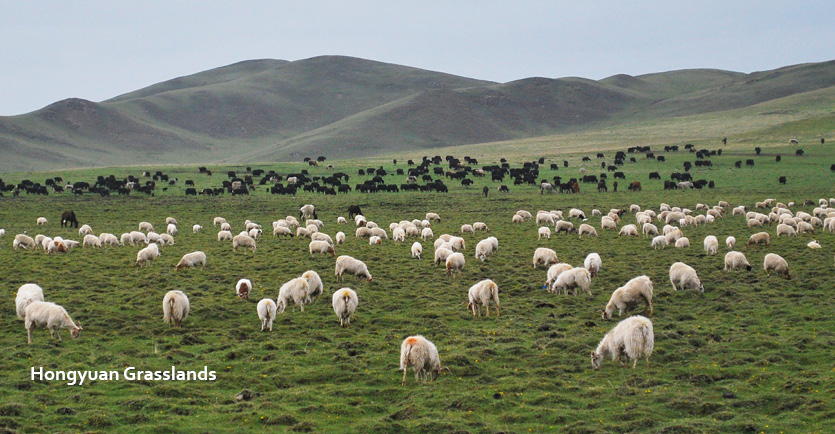 After lunch at Hongyuan, continue the drive to Jiuzhaigou (~260km /162mi, 4-5hrs). En route, rest and stretch legs at Chuanzhusi (3,650m), a peaceful Tibetan town in Songpan County. Upon arrival, transfer to your hotel to check in and have dinner at hotel. Deluxe Room at Hilton Jiuzhaigou Resort for 2 nights.
Day 11, Jiuzhaigou
A UNESCO World Heritage Site since 1992, Jiuzhaigou (short for Jiuzhaigou Nature Reserve & National Park) is a wonderland of waters and colors, with its breathtaking scenery of multicolored lakes, various waterfalls that connect the lakes, the lush green forest and the snow-capped mountains. Jiuzhaigou was closed for about two years after the 2017 earthquake, and now most of the damage caused by the devastating quake has been restored and recovered. On September 27, 2019, Jiuzhaigou announced its reopening to the public, the area reopening include Shuzheng Valley, Zharu Valley, Zechawa Valley, and part of Rize Valley, with main sites such as the Nuorilang Waterfall, Mirror Lake, Five-Flower Lake and Shuzheng Lakes. Meanwhile, the rest part in Rize Valley is also on the calendar to reopen in the coming years.
Today, explore Jiuzhaigou Nature Reserve, and have some easy hike. Take the shuttle bus to Five-Flower Lake and start your exploration of the reopened part of Rize Valley. During the hike (easy hike along wooden walkways, ~3km /1hrs), you will be visiting the colorful Five-Flower Lake, Pearl Shoal Waterfall, Mirror Lake, and the iconic Nuorilang Waterfall. Afterwards, continue your exploration of Jiuzhaigou and discover the allure of Shuzheng Valley (easy walk, ~4km /2hrs), including Rhinoceros Lake, Shuzheng Waterfall, and the Double-Dragon Lake. Return to your hotel, and spend the rest of the day free at leisure.
Day 12, Farewell
Today, fly to Chengdu and connect to your onward flight home. Farewell.
Dates & Prices
Dates
2023, all year round, with May to October best recommended.
Prices
For a private group of 2 guests traveling together, each guest USD5,560
For a private group of 4 guests traveling together, each guest USD4,630
For a private group of 6 guests traveling together, each guest USD4,050
Internal Airfare
Internal flights of economy class for Jiuzhaigou /Chengdu, each guest USD270
All inclusive and fully serviced for your journey duration in China
All hotel accommodation on double occupancy;
All meals;
All transportation;
All tour and event plans, with the service of an English speaking guide and a driver, starting from arrival to departure at the airport of each destination;
Plus proper flexibility and 24/7 immediate support.
Notes
Guests will need to take care of the international flights to and from Chengdu, passport and China visa, travel insurance, personal expenses on trip, and optional gratuities to your guides and drivers.
Star Records
Thoroughly researched and developed to feature the best hotels and experiences available, our expeditions are continuously updated and perfected with the incorporation of new opportunities for you to engage with the places and people you visit.