Itinerary
Day 1, Arrive in Beijing
Arrive in Beijing, welcome and transfer to your hotel to check in. Beijing, the center of politics and culture since the 13th century, showcases China's best art and imperial culture. In addition, today's Beijing offers an excellent performance community, and a healthy variety of fine dining establishments. Superior Room at Bvlgari Hotel Beijing for 1 night.
Day 2, Beijing /Taiyuan
Fly to Taiyuan, the provincial capital of Shanxi province. Literally meaning "West of the Mountains," for its location west of Taihang Mountain, Shanxi once served as the center of banking in China and is home to a rich collection of ancient temples, art and architecture.
For the afternoon, head to visit Shanxi Museum. Though less famous than the museums in Beijing or Xi'an, Shanxi Museum is well worth a visit for its great collection of old architecture, ancient Chinese coins, Buddhist steles and sculptures from the region. If time permits, visit Chongshan Temple (literally "Temple for Appreciating Kindliness"). Chongshan Temple is known for its surviving architectures from Ming dynasty (1368-1644), as well as the precious copies of two frescos and the well-preserved Buddhist sutras from Song, Yuan and Ming dynasties. Deluxe Room at Intercontinental Taiyuan Hotel for 1 night.
Day 3, Taiyuan /Pingyao
This morning, visit Jinci Temple, an ancient ancestral temple which is noted for its magnificent architecture and history. Afterwards, head to Pingyao (~100km /62mi, 1.5hrs). En route, tour the Qiao Residence, the well-preserved courtyard home made famous in director Zhang Yimou's film "Raise the Red Lantern." With its large scale and the exquisite craftsmanship, the well-preserved Qiao Residence is a fine example of the private houses built by the wealthy businessmen and bankers during Qing Dynasty (1644-1911). Arrive at Pingyao in the late afternoon, and enjoy dinner at hotel.
Arrive at Pingyao in the afternoon. Pingyao, a UNESCO site, is known for its well-preserved ancient city walls and building structures, as well as being the center of the nation's banking industry during the imperial China. Go for a leisurely stroll on the Ancient City Wall of Pingyao Old Town. Wander the ancient street, visit Rishengchang Money Exchange and the ancient Government Office. Classic Suite at Yunjincheng Mansion for 2 nights.
Day 4, Pingyao
Drive southwest out of the Pingyao town (~60km /37mi, 1.5hrs), and visit the 1380-year old Zhangbi Castle Village. Different from Pingyao old town and the nearby old residences of the accomplished merchants, Zhangbi Village is characterized as a rare ancient military defense site, with temples and residential buildings built on the ground and under the ground an intricate tunnel system created for military defense use.
After lunch at a local restaurant, head to Jingsheng village, and tour the Wang Family Compound. One of the most prominent families in the region, the Wang family business started in the Ming Dynasty and flourished during the early and middle Qing Dynasty. The Wang Family Compound is splendid and impressively large, composed of numerous small courtyards, and it's celebrated for its high achievements in the traditional Chinese residential architecture and art. Return to Pingyao, and visit Shuanglin Temple, which is unique for its well-preserved ancient murals and painted sculptures.
Day 5, Pingyao /Xi'an
This morning, transfer to Pingyao Railway Station and board a bullet train for Xi'an (~3hr, first class seats). Known as "Chang'an" before the Ming Dynasty, the deep historical roots of today's Xi'an are a testament to the city's importance to past dynasties.
At Shaanxi History Museum, learn about the ancient Chinese civilization and appreciate some of the very rare treasures. Through its well-organized and fascinating world-class exhibits, Shaanxi History Museum displays the rich historical and cultural heritage of the region. Have a special access to the underground Tang Dynasty Murals, here a prominent expert will offer interesting and insightful views to bring these ancient paintings alive. Deluxe Room at The Ritz-Carlton Xi'an for 3 nights.
Day 6, Xi'an
Visit Terra-Cotta Warriors and Horses, and appreciate those life-size sculptures of warriors and horses, which were built to guard the massive mausoleum of Emperor Qin Shihuang.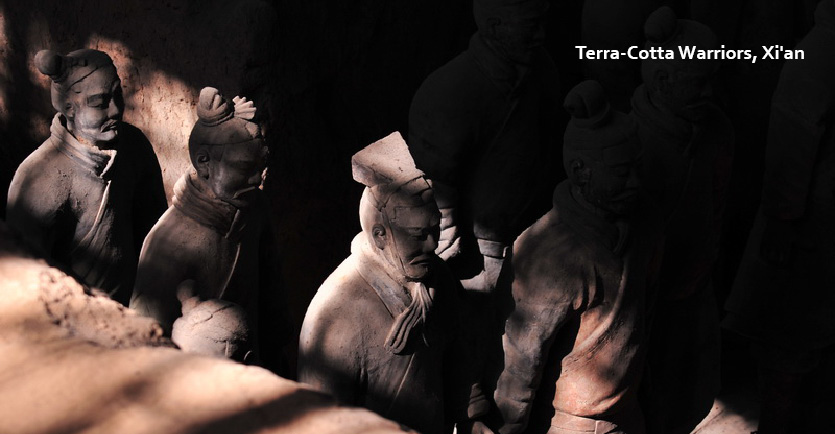 After lunch, visit Wild Goose Pagoda. A masterpiece of the Tang Dynasty Buddhist architecture, Wild Goose Pagoda was constructed in year 652 to worship and hold the Buddhist relics, statues and sutras that monk Xuanzang brought back from India. Today this quaint pagoda is often taken as the symbol of the historic Xi'an city. Afterwards, have a leisurely stroll through the city's Muslim Quarter, and visit the Great Mosque for its remarkable architecture and history.
Day 7, Luoyang Day Excursion
Take a high-speed bullet train to Luoyang (~1.5hrs, first class seats). Visit the very first Buddhist temple in China – the White Horse Temple, and explore the invaluable statues, steles and architecture from the Yuan, Ming and Qing dynasties. Visit the nearby Qiyun Pagoda, a well preserved pagoda from Jin Dynasty (1115-1234).
After lunch, transfer to Longmen Grottoes, and appreciate the Buddhist art of this UNESCO site. Longmen Grottoes is considered a masterpiece of both the Buddhist art and Chinese calligraphy, and its most caves were built by the royal families of Northern Wei Dynasty (386-557) and Tang Dynasty (618-907). Board a high-speed bullet train, and return to Xi'an in the late afternoon.
Day 8, Xi'an /Lanzhou
Fly to Lanzhou, the provincial capital of Gansu. Situated between the vast Tibetan and Loess plateaus, and bordering six other provinces and autonomous regions, Gansu province offers a distinctive glimpse into Silk Road history and ancient Buddhist history and practices.
At Gansu Provincial Museum, visit the ancient treasures excavated along the Silk Road, especially the delicate brick mural "Postman" and the mysterious Galloping Horse. If time permits, stroll along the Yellow River, visit Zhongshan Iron Bridge and walk up the White Pagoda Hill. Atop the hill, take in panoramic views of today's Lanzhou – once a garrison town along the Silk Road. Deluxe River View Room at Crowne Plaza Lanzhou for 1 night.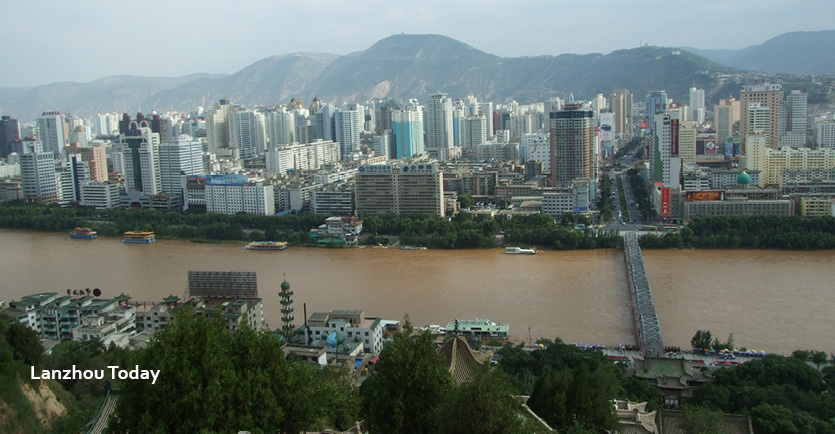 Day 9, Lanzhou /Xiahe
Drive to Xiahe via Binglingsi Caves (~250km /155mi, 4-5hrs). En route, take a speedboat to Binglingsi Caves (also known as Bingling Temple). Apart from the fascinating Buddhist statues and ancient murals inside a peaceful valley, Binglingsi Caves is characterized by its picturesque surroundings – the jagged mountain cliffs and the twisting Yellow River.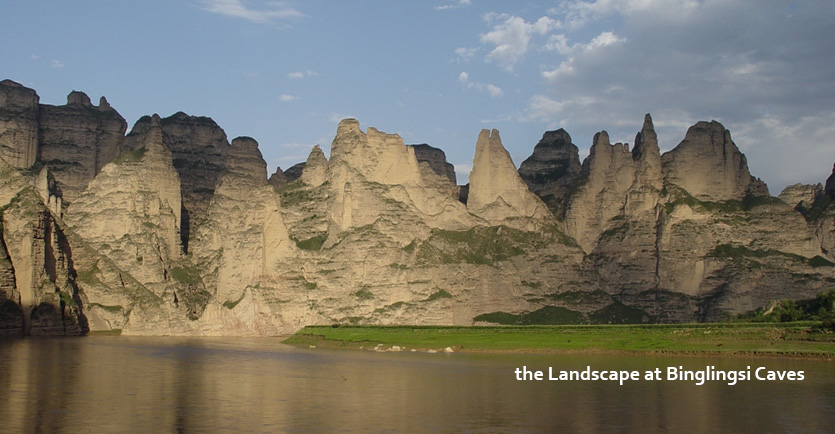 Stop for lunch at Linxia, a Muslim town dubbed "the little Mecca of China". Explore the local market street and visit one of Linxia's numerous mosques. Afterwards, continue the journey to the Tibetan land (2,800m /9,186ft), and spend the remainder of the day at leisure. Deluxe Room at Xiahe Tianzhu International Hotel for 2 nights.
Day 10, Xiahe
Nestled at the foot of the Phoenix Mountain, Labrang Monastery is the religious center of the Amdo Tibetan area, and the largest Buddhist monastic university in the entire Tibetan area. Join the local people walking the pilgrimage route around the monastery. Explore the vast monastery complex, and visit the Tibetan medicine college and the sutra-debating courtyard.
After lunch, visit the monastery's sutra-printing house, and have a hands-on try at the ancient woodblock printing. Drive to Ganjia Grasslands, visit local Tibetan families and taste yak butter tea. Spend the rest of the day wandering around the bustling Xiahe market street. As the night falls, head to Sangke Grasslands, and stargaze with local Tibetan families.
Day 11, Xiahe /Jiayuguan
Drive back to Lanzhou(~250km /155mi, 4-5hrs), and fly to Jiayuguan. Today a beautiful oasis town amid the vast Gobi desert, Jiayuguan was once a strategic pass along the ancient Silk Road. Spend the rest of the afternoon at leisure, and have dinner at your hotel. Deluxe Lake View Room at Jiayuguan Nuojin Hotel for 2 nights.
Day 12, Jiayuguan
At dawn, photograph Jiayuguan Fortress against the snow-capped Qilian Mountains. Watch the sunrise, and enjoy a catered breakfast on Gobi desert. Visit Jiayuguan Fortress (Jiayuguan Pass), the eastern starting point of the Ming Dynasty Great Wall.
After some time to relax and recharge at hotel, head to the nearby Jiuquan city. Visit the Wei-Jin Underground Tombs, and appreciate the vivid brick paintings from the Wei and Jin dynasties (220-419). This evening, return to Jiayuguan Fort for our Starry Escapes Moment.
Day 13, Jiayuguan /Dunhuang
Have a free morning to unwind. After an early lunch, drive to Dunhuang (~390km /242mi, 4hrs). En route, stop to stretch legs, and visit the ancient beacon towers and Great Wall from Han Dynasty (206BC-220AD). Arrive in Dunhuang in the afternoon. Once a trading hub on the ancient Silk Road, today's Dunhuang is associated with the gorgeous Flying Apsaras at Mogao Caves, the magic Crescent Moon Lake, as well as the desolate Gobi desert and endless sand dunes. Deluxe View Room at Silk Road Dunhuang Hotel for 2 nights.
Day 14, Dunhuang
Visit the famed Mogao Caves (the Caves of a Thousand Buddhas), and study the incomparable mural paintings and Buddhist sculptures. An unrivaled treasure house for Buddhist art, Mogao Caves is especially renowned worldwide for the painted murals, which depict various aspects of the social life and are of significant historical values to study the culture, politics and economics of ancient China.
After some downtime resting at hotel, pay a visit to Mingsha Sand Dunes and Crescent Moon Lake in the late afternoon. Enjoy a camel-ride, and watch the sun setting over the rolling sand dunes. Have dinner at Rooftop Restaurant of your hotel. For the evening, drive up Sanwei Hill, stargaze and take in an astonishing bird's-eye view of the nearby Mogao Caves and Mingsha Sand Dunes.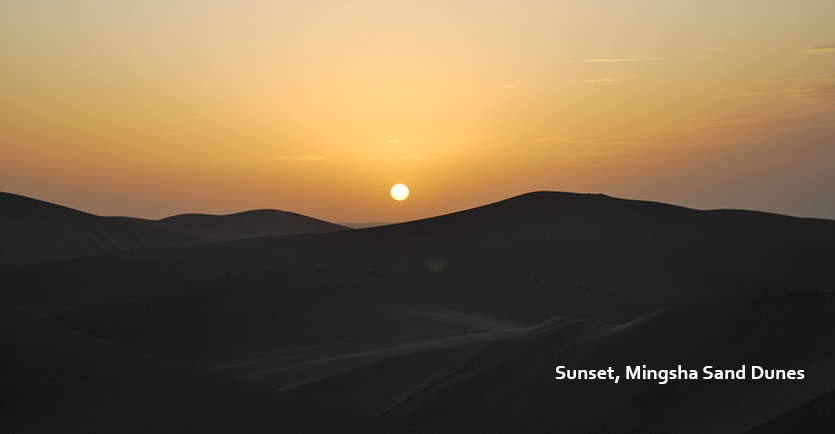 Day 15, Farewell
Fly to Beijing, and connect to your onward flight home. Farewell.
Dates & Prices
Dates
September 8 – 22, 2023
Prices
A small group of 10-12 guests traveling together, each guest USD5,930
Internal Airfare
All internal flights of economy class, starting from Beijing till Beijing, each guest USD960
All inclusive and fully serviced for your journey duration in China
All hotel accommodation on double occupancy;
All meals;
All transportation (modern, air-conditioned coach);
All tour and event plans, with the service of an English speaking guide and a driver, starting from arrival to departure at the airport of each destination;
First class seats for Pingyao /Xi'an /Luoyang /Xi'an bullet trains;
The service of one group leader throughout the trip;
Plus proper flexibility and 24/7 immediate support.
Notes
1, For guests who take single occupancy for all hotel accommodation, a single supplement of USD1,480 will be charged.
2, Guests will need to take care of the international flights to and from Beijing, passport and China visa, travel insurance, personal expenses on trip, and optional gratuities to your guides and drivers.
Star Records
Thoroughly researched and developed to feature the best hotels and experiences available, our expeditions are continuously updated and perfected with the incorporation of new opportunities for you to engage with the places and people you visit.