Itinerary
Day 1, Arrive in Beijing
Arrive in Beijing, welcome and transfer to your hotel to check in. Beijing, the center of politics and culture since the 13th century, showcases China's best art and imperial culture. In addition, today's Beijing offers an excellent performance community, and a healthy variety of fine dining establishments. Superior Suite at Peninsula Beijing for 1 night.
Day 2, Beijing /Lhasa
Fly to Lhasa (3,65om /11,975ft), the capital of Tibet Autonomous Region. From the breathtaking Himalayan landscapes emerged the spiritual powerhouse of Buddhism. Sacred, spiritual, distant, and exotic, Tibet captures the world's imagination.
The rest of the day is at leisure for you to rest and get acclimatized to the altitude. This evening, enjoy buffet dinner at your hotel. Deluxe Room at St. Regis Lhasa Resort for 3 nights.
Day 3, Lhasa
Visit the Potala Palace in the morning. Situated on Red Hill in the centre of Lhasa valley, Potala Palace dominates the city's skyline and is considered one of the great wonders of world architecture.
After lunch at Pobatsang Restaurant, join the Tibetan pilgrims to visit Jokhang Temple. Opt to kindle and place your own butter lamp in the temple. Built in the 7th century by King Songtsen Gampo, Jokhang Temple is the most sacred temple in Tibet and the final destination for Tibetan pilgrims. The rest of the day is free for you to explore Lhasa's old neighborhood and the bustling Barkhor Street.
Day 4, Lhasa
Visit the small Pabongka Monastery, one of the oldest sacred buildings in Tibet. Embark on a moderate hike to Chupsang Nunnery (~2hrs), and take in panoramic views of Lhasa valley along the way. Visit Chupsang Nunnery, and opt to join the friendly nuns for a private chanting ceremony. Affiliated with the nearby Sera Monastery, Chupsang Nunnery is set in a peaceful surrounding at the foot of Mt. Tatipu.
For the afternoon, tour Sera Monastery and watch monks practice sutra-debating in the monastery's courtyard. Return to your hotel and have the rest of the day to unwind, or go for a leisurely stroll at the peaceful Norbu Lingka Park – once the summer residence for the successive Dalai Lamas.
Day 5, Lhasa /Shigatse
Drive to Shigatse via Yamdrok Tso Lake (~360km /224mi, 6-7hrs). At Kampala pass (5,000m /16,404ft), take in panoramic views of the picturesque Yamdrok Tso Lake, as well as the snow-capped peaks of Mt. Nojin Kangsang in the distance. Go for an easy walk along the shores of Yamdrok Tso Lake (4,441m /14,570ft), and picnic for lunch. Located north of the Himalayas, Yamdrok Tso Lake is one of three holiest lakes in Tibet, and it's also called Green Jade Lake because of its clear turquoise water.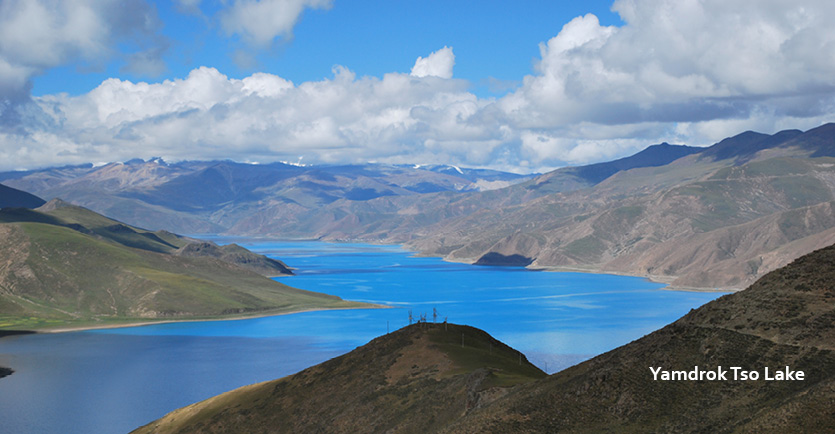 In Gyantse, visit Pelkhor Monastery and Kumbum Stupa. Pelkhor Monastery is known for the coexistence of three different sects of the Tibetan Buddhism (the Gelug, Sakya, and the Kagyu sect), and the unique clay sculptures and vivid murals preserved from the 15th century. If energy permits, ascend the Kumbum Stupa and explore some of its many chapels. Continue the drive to Shigatse (3,900m /12,795ft), the second largest city in Tibet. Deluxe Room at Qomo Langzong Hotel for 1 night.
Day 6, Shigatse /Everest Base Camp
Drive along the national highway G318 (also known as the Friendship Highway) to Tingri (~240km /149mi, 4-5hrs), via Lhatse and Gyatsola Pass (5,250m /17,224ft).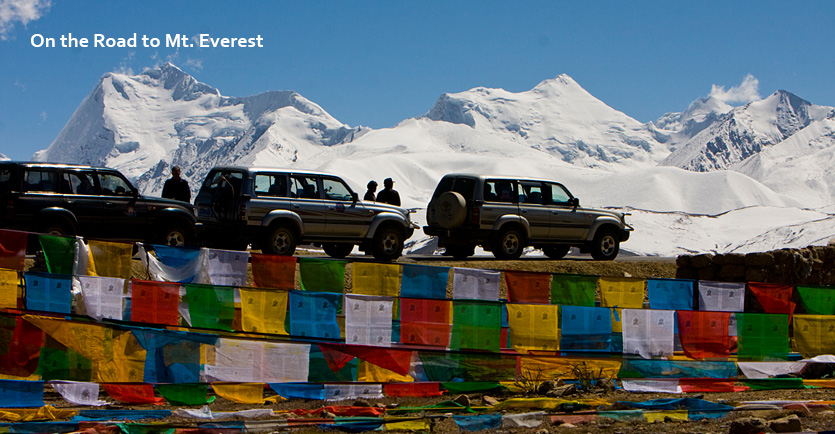 After lunch at Tingri (the new Tingri, also known as Shegar or Shelkar), continue the drive to Rongphu Monastery (~100km /62mi, 2.5hrs), and arrive at Rongphu in the late afternoon. At sunset, walk up the little hill near Rongphu Monastery to photograph Mt. Everest and enjoy the stunning views. Opt to gaze under the starlight of the "Roof of the World" at night. Guest Room at Rongphu Guesthouse for 1 night.
Day 7, Everest Base Camp /Shigatse
Watch the first light rise over Mt. Everest, and tour Rongphu Monastery (Rongbuk Monastery). Afterwards, return to Tingri, and have lunch at Tingri Baiba Hotel.
Continue the drive back to Shigatse (~240km /149mi, 4-5hrs). En route, stretch legs at Lhatse, and head south to the nearby Sakya County (~25km /16mi from Lhatse). At Sakya Monastery, appreciate the splendid architecture and exquisite mural paintings, and learn the history of the Sakya Kingdom. Sakya Monastery, the seat of the Sakya sect of Tibetan Buddhism, houses a large volume of the most precious Buddhist scriptures, ancient murals and Thangka paintings. Arrive in Shigatse in the late afternoon. Deluxe Room at Qomo Langzong Hotel for 2 nights.
Day 8, Shigatse
Head to Shalu Village, and visit the secluded Shalu Monastery. 20km /12mi southeast to Shigatse, Shalu Monastery was constructed in a mixture of Tibetan, Han, Indian and Nepalese styles, and it boasts a large volume of well-preserved mural paintings, Buddhist sculptures and precious rock engravings from the 11-14th centuries.
Return to Shigatse, and have lunch at Songtsen Restaurant. Tour Tashilhunpo Monastery, the traditional seat of successive Panchen Lamas. As the Buddhist center of the vast Shigatse region, Tashilhunpo Monastery was founded by the first Dalai Lama in 1447, and expanded by the fourth and successive Panchen Lamas. Visit the huge statue of Maitreya Buddha, Panchen Lamas' stupas, as well as all the exquisite murals and numerous ancient relics.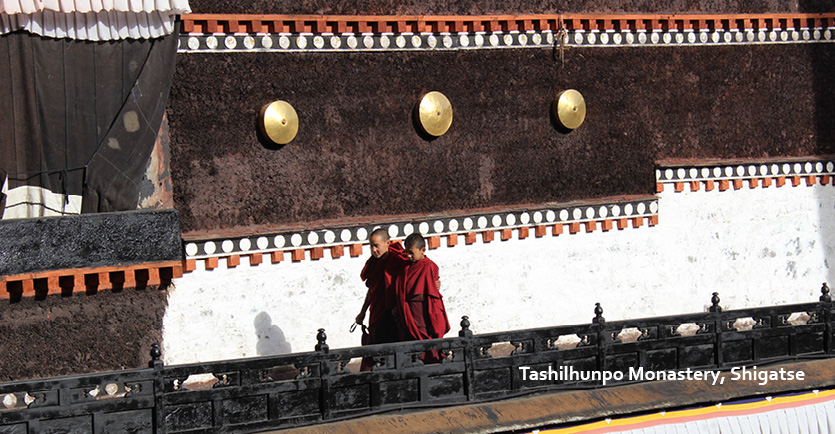 Day 9, Shigatse /Lhasa
After breakfast, transfer to Shigatse Railway Station and board the train back to Lhasa (a ride of 2.5hrs, and your luggage will be transported to Lhasa by your vehicle). Launched in 2014, the train is now a popular way for local Tibetans to travel between Shigatse and Lhasa, and it also provides a unique experience for travelers as the train rattles along the Yarlong Tsangpo River through the scenic farmlands and mountains.
Arrive in Lhasa in the afternoon, transfer to your hotel and have the rest of the day free at leisure. Deluxe Room at St. Regis Lhasa Resort for 1 night.
Day 10, Farewell
Fly to Beijing, and connect to your onward flight home. Farewell.
Dates & Prices
Dates
2023, all year round, with June to September best recommended.
Prices
For a private group of 2 guests traveling together, each guest USD5,380
For a private group of 5 guests traveling together, each guest USD4,230
For a private group of 8 guests traveling together, each guest USD3,870
Internal Airfare
All internal flights of economy class, starting from Beijing till Beijing, each guest USD850
All inclusive and fully serviced for your journey duration in China
All hotel accommodation on double occupancy;
All meals;
All transportation (Toyota Land Cruisers from Day 2 till Day 10, with every three persons sharing one vehicle);
All tour and event plans, with the service of an English speaking guide and a driver, starting from arrival to departure at the airport of each destination;
Plus proper flexibility and 24/7 immediate support.
Notes
1, For guests who take single occupancy for all hotel accommodation, a single supplement of USD1,090 will be charged.
2, Guests will need to take care of the international flights to and from Beijing, passport and China visa, travel insurance, personal expenses on trip, and optional gratuities to your guides and drivers.
Star Records
Thoroughly researched and developed to feature the best hotels and experiences available, our expeditions are continuously updated and perfected with the incorporation of new opportunities for you to engage with the places and people you visit.