Itinerary
Day 1, Arrive in Beijing
Arrive in Beijing, welcome and transfer to your hotel to check in. Beijing, the center of politics and culture since the 13th century, showcases China's best art and imperial culture. In addition, today's Beijing offers an excellent performance community, and a healthy variety of fine dining establishments. Deluxe Room at Waldorf Astoria Beijing for 1 night.
Day 2, Beijing /Anshun
Fly to Guiyang, the provincial capital of Guizhou. In the countryside of China's southwestern province, Guizhou, diverse ethnic minority villages are separated by lush, terraced hills.
Upon arrival, transfer to Anshun (~100km /62mi, 2hrs). Anshun, 90km southwest of Guiyang city, is known for its pleasant climate and the picturesque karst landscapes, and it's also hailed as "the home of waterfalls" and "the home of batiks." Guest Room at Double Tree by Hilton Hotel for 2 nights.
Day 3, Anshun
After breakfast, drive southwest to visit Huangguoshu Waterfall (~50km /31mi, 1hr). One of China's most famous waterfalls, Huangguoshu Waterfall is spectacular and scenically beautiful. The most interesting part is that you will be able to discover this impressive waterfall from different angles, from a bird's eye view to a close view right behind the running waterfall.
Return to Anshun in the afternoon, enjoy some downtime at hotel or go for a leisurely walk by Hongshan Lake. Visit a traditional batik workshop, and meet with the local artisans.
Day 4, Anshun /Guiyang
This morning, drive to Jichang Village (~30km /19mi, 4omins). Jichang Village is inhabited by the Old Han people, the descendants of the royal troops that were stationed in Guizhou during the Ming Dynasty (1368-1644).
Explore this peaceful village and its traditional Ming Dynasty architecture. Watch a local Dixi Opera performance, also known as Ground Opera. Hailed as a living fossil of the Chinese opera, the Dixi Opera originated from the Ming Dynasty troops 600 years ago. The opera tells more about war and battle stories, and is usually performed for sacrifice ceremony, celebrations and entertainment. If energy permits, go for an easy hike and explore the nearby villages. Afterwards, continue the drive to Guiyang (~80km /50mi, 1.5hrs). Superior Room at Sofitel Guiyang for 2 nights.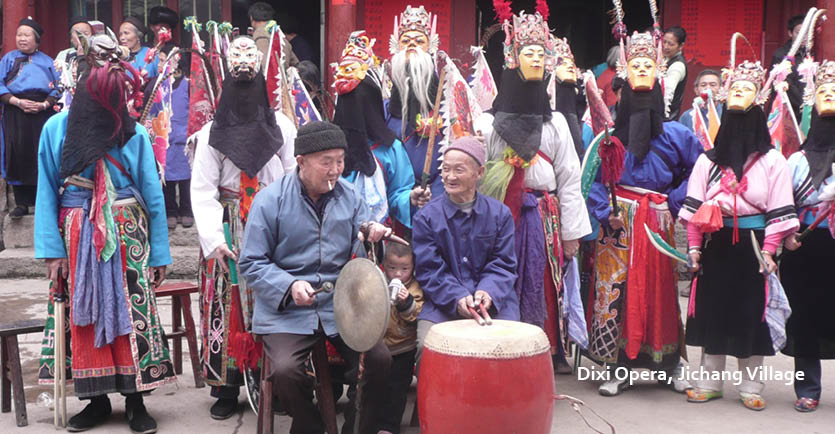 Day 5, Guiyang
Drive to northwest to Shuitou Bouyei Village in Kaiyang County (~76km /47mi, 1.5hrs). Walk around this quaint village, and possibly meet with the local families who are brewing rice wine or making Toufu (bean curd) in the very traditional way.
After lunch, embark on an easy hike (~6km /4mi, 2hrs) along a hillside trail to Wangche Bouyei Village. En route, meet local tea farmers and learn how to pick the fresh tea leaves (available during the tea harvest season only, between March and June). People at Wangche Bouyei Village love calligraphy and attach great importance to education, today almost every villager can do calligraphy, from the 7-year kids to the elderly. Experience the typical rural life, and learn calligraphy at a local Bouyei family home. Return to Guiyang in the late afternoon, and have buffet dinner at hotel.
Day 6, Guiyang /Xijiang
This morning, drive to Xijiang Miao Village (~200km /124mi, 3hrs), the largest Miao village in China. En route, have lunch in Kaili, and visit the nearby Nanhua Miao Village (inhabited by long-skirt Miao). Continue the drive to Kaijue Miao Village, and embark on a scenic hike (~6km /4mi, 2hrs) to Xijiang Miao Village.
Apart from the long tradition in making embroidery, batiks and silver jewelry, the culture of Miao people is infused with songs and dance. Explore Xijiang Miao Village, the largest Miao village in China, and enjoy a superb panorama of this mountain village when it is illuminated at dusk. Deluxe View Room at Xunmei Banshan Lodge for 1 night.
Day 7, Xijiang /Kaili
Enjoy some downtime in the morning. Afterward, have a short drive on the highway to Leishan (~28km /17mi, 30mins), the center of diverse Miao communities and culture.
This afternoon, head to Datang Miao Village (inhabited by short-skirt Miao), and watch a private Miao dance. At Paika Miao Village, meet friendly villagers in their traditional wooden houses, and learn how to make the traditional music instrument – Lusheng pipes. Drive to Kaili (~40km /25mi, 1hr), the capital of Qiandongnan Miao and Dong autonomous prefecture. En route, if time permits, drop by one or two special villages, the peaceful Jidao Miao Village on Bala River, or the Langde Miao Village inhabited by long-skirt Miao. Deluxe Room at Kaili Gleetour Hotel for 1 night.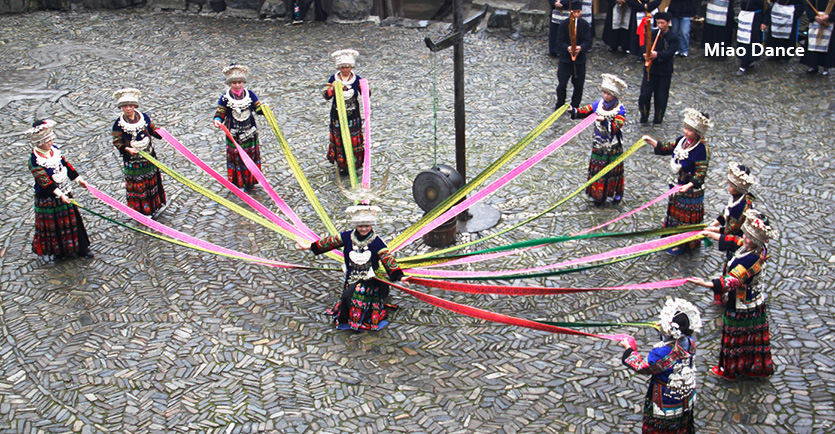 Day 8, Kaili /Rongjiang
Today, take a scenic drive along the highway to Rongjiang (~150km /81mi, 2hrs). Dong people are known for their music and unique architecture, especially the symbolic drum towers, wind and rain bridges and opera stages.
After lunch, explore Chejiang Sanbao Dong Village. Chejiang Dong Village is characterized by its large drum tower, and the ancient banyan trees that flourish along the Chejiang River. Afterwards, have a short drive along Chejiang River to Dali Dong Village. At the peaceful Dali Village, stroll along the stone-paved street, and visit a historic courtyard home. Guest Room at Rongjiang Shangpin Hotel for 2 nights.
Day 9, Rongjiang
Head west to Xinghua Shui Village (~56km /35mi, 1.5hrs), and embark an easy hike (~5km /3mi, 1.5hrs) to discover Baibei Miao Village. Located on a hillside of Moon Mountains, this village is considered one of the most ancient Miao villages in the region. Baibei women are good at weaving and batik, and well known for their unique "Hundred Birds" dress, which is covered with embroidered birds and trimmed with bird feathers.
Return to Xinhua Shui Village, and board a local ferry to visit the picturesque Bameng Shui Village. The Shui (literally "water") ethnic people in this region still keep their unique customs, as well as the ancient Shui language and Shui calendar.
Day 10, Rongjiang /Zhaoxing
Early this morning, drive south to Dangniu Village (~86km /53mi, 2.5hrs), and visit Jiabang Rice Terraces. Jiabang Rice Terraces is very picturesque and spectacular, and considered the best natural scenery in southeast Guizhou. Embark on a moderate hike (~9km /6mi, 3hrs) through the rice terraces to Jiache Village. Afterwards, continue the drive (~120km /75mi, 3hrs) to Zhaoxing Dong Village. Enjoy the rest of the day free at leisure, or meet with local people and learn Dong people's rich traditions and unique architecture. Guest Room at Zhaoxing Indigo Lodge for 2 nights.
Day 11, Zhaoxing
Drive to Basha Miao Village (~50km /31mi, 1hr), and discover the last gun-hunter Miao tribe in China. Little affected by the modern world, Biasha Miao people still live in the ancient way, with their unique clothing, hairstyles and mysterious customs.
After lunch, drive to Zhanli Dong Village (~20km /12mi, 40mins). People at Zhanli Village lead a well-off and healthy life, and coexist in perfect harmony with nature. Here each family has two children (one boy and one girl) – a tradition that Zhanli people have been carrying on for over 600 years. Visit local families, and learn how the villagers manage to control the population and keep the ecological balance. If energy allows, drive another 40mins to Xiaohuang Dong Village, and watch a traditional dancing and singing performance. Local people at Xiaohuang Dong Village are very accomplished at singing folk songs in chorus. Return to Zhaoxing in the late afternoon.
Day 12, Zhaoxing /Guiyang
In the morning, head to the nearby Tang'an Dong Village. Located on the hillside, Tang'an Dong Village is known for its idyllic surroundings and the impressive terrace fields. Embark on an easy hike (~6km /4mi, 2hrs) through terraced paddy fields back to Zhaoxing. En route, explore rural life at Shagg Dong village and visit the local primary school.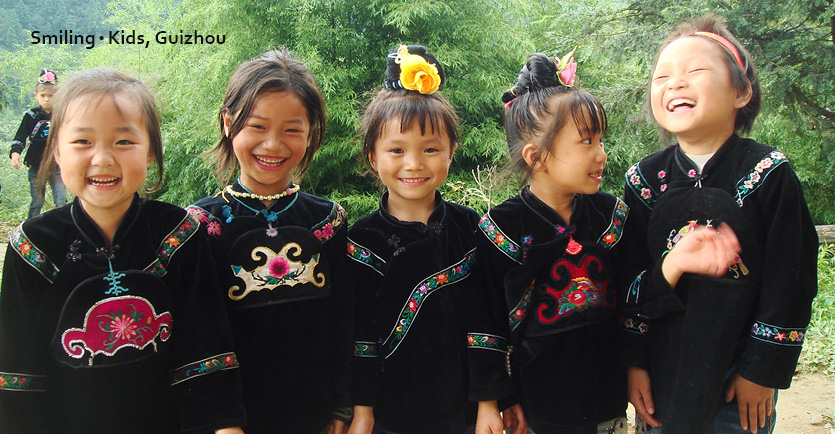 This afternoon, make a short transfer to Congjiang Railway Station and board a bullet train back to Guiyang (~1.5hrs, first class seats). Superior Room at Sofitel Guiyang for 1 night.
Day 13, Farewell
Fly to Beijing, and connect to your onward flight home. Farewell.
Dates & Prices
Dates
2023, all year round, with March to November better recommended.
Prices
For a private group of 2 guests traveling together, each guest USD5,520
For a private group of 4 guests traveling together, each guest USD4,100
For a private group of 6 guests traveling together, each guest USD3,530
Internal Airfare
All internal flights of economy class, starting from Beijing till Beijing, each guest USD630
All inclusive and fully serviced for your journey duration in China
All hotel accommodation on double occupancy;
All meals;
All transportation;
All tour and event plans, with the service of an English speaking guide and a driver, starting from arrival to departure at the airport of each destination;
Plus proper flexibility and 24/7 immediate support.
Notes
Guests will need to take care of the international flights to and from Beijing, passport and China visa, travel insurance, personal expenses on trip, and optional gratuities to your guides and drivers.
Star Records
Thoroughly researched and developed to feature the best hotels and experiences available, our expeditions are continuously updated and perfected with the incorporation of new opportunities for you to engage with the places and people you visit.