Itinerary
Day 1, Arrive in Beijing
Arrive in Beijing, welcome and transfer to your hotel to check in. Beijing, the center of politics and culture since the 13th century, showcases China's best art and imperial culture. In addition, today's Beijing offers an excellent performance community, and a healthy variety of fine dining establishments. Superior Suite at Peninsula Beijing for 1 night.
Day 2, Beijing /Xining
Fly to Xining, the provincial capital of Qinghai. After lunch, head to Kumbum Monastery, also known as Ta'er Monastery, one of the six great monasteries of the Gelugpa (Yellow sect). Visit the monastery and its ancient treasures, and meet with one of its head Lamas. Return to the downtown, and visit Dongguan Mosque, which is noted for its magnificent architecture and history. Luxury Room at Sofitel Xining for 3 nights.
Day 3, Xining
Drive to Ledu County, and visit Qutan Temple – a forgotten gem referred to by experts as the "Imperial Palace of Northwest China". Tour the temple, and appreciate its well-preserved Ming Dynasty architecture and exquisite mural paintings.
Return to Xining in the afternoon. If time permits, visit Qinghai Tibetan Medicine Museum and appreciate the world's longest thangka painting. For the evening, opt to visit the night market.
Day 4, Xining
This morning, drive to Kanbula National Geopark – a wonderland known for its unique ecosystem, geological landscapes, and its great importance in the revitalization of Tibetan Buddhism. Hike 7-8km (4-5mi) through the spectacular Danxia peaks and dense forest to Nanzong Valley – one of the important cradles for the second Buddhist diffusion and development in Tibet. Inside the valley, visit Aqiong Nanzong Monastery and Nanzong Nunnery, and meet monks and nuns to learn about their daily life. Return to Xining in the late afternoon, and enjoy buffet dinner at hotel.
Day 5, Xining /Yushu
Fly to Yushu (Bartang Airport at 3,890m /12,762ft) in the morning, and drive through Bartang Grasslands to Gyegu Town (3,780m /12,402ft), the capital of Yushu Tibetan autonomous prefecture.
After lunch, hike uphill to Gyegu Monastery, and take in panoramic views of Gyegu Town, with all the new buildings rising up after the 2010 earthquake. If time permits, head to Chagu Village, and have tea at a local Tibetan's home. Deluxe Room at Yushu Qinggan Hotel for 2 nights.
Day 6, Yushu
Option 1: walk the pilgrimage of Gyanak Mani (a massive collection of prayer stones), and opt to place your own mani stone there. Embark on a ~4hrs hike in Lheba Valley, retracing the ancient Tang-Bo Road. The ancient Tang-Bo Road is a well-known route in history, which once connected Chang'an of Tang Dynasty (today's Xi'an) with Tubo (Tibet). Appreciate the ancient rock art inside the valley, and picnic by a bubbling stream. Visit the Temple of Princess Wencheng at Baina Valley, where Princess Wencheng once stayed on her way to Tibet.
Option 2: join the local Horseback Racing Festival in Yushu or in a nearby county if the schedule fits. Horseback Racing Festival is the traditional event for Tibetan herdsmen to celebrate, with horseback racing, horsemanship performance and folk dance. Watch the horseback racing, and meet local horse riders. Kham people are known for their graceful songs and dances. As evening falls, join the local people around a campfire for singing and dancing.
Day 7, Yushu /Longbaotan
Drive to Nianji Lake (Rongpo Tso in Tibetan, at 4,200m /13,780ft). Every July and Aug, the grasslands around the lake will turn to oceans of flowers, with flocks of birds rippling the lake and the distant mountains providing a peaceful backdrop. Take a walk from the southern shore to the west of the lake where mother chrysanthemum and other unnamed flowers are in full bloom. Learn about the lake legends, and picnic on the flowery grasslands.
Continue the drive to Longbaotan National Reserve. En route, stop for stunning views of the alpine grasslands, and visit Nianji Holy Mountain. Afterwards, head north, along the Deng E Yong River, to Longbaotan National Reserve. Guest Room at Longbao Lake Resort for 1 night.
Day 8, Longbaotan /Yushu
Go bird-watching in Longbaotan National Reserve (~4,260m /13,976ft), the biggest bird reserve in the key area of Sanjiangyuan (the headwaters of Asia's three great rivers – the Yellow River, Yangtze River, and Lancang River). Every spring, thousands of black-necked cranes, bar-headed geese and ruddy shelducks fly to its wetlands to breed before they migrate back to the south in late autumn. Drive back to Yushu, and have a private afternoon to unwind. Deluxe Room at Yushu Qinggan Hotel for 2 nights.
Day 9, Yushu
Early in the morning, move towards the high mountains and deep valleys south of Bartang Grasslands, and go trekking in Reshui Gou Valley (literally, a valley of hot springs, at ~3,900m /12,795ft).
Inside the valley, first drive 16km (10mi) to the trailhead, then embark on a trek of 5hrs (15-20km /9-12mi) to the source of the hot waters, where ~30 hot springs bubbling all year around. With luck, you may be able to spot a red fox, blue sheep, white lipped deer or other wildlife. For the return, opt to horse-ride or hike to your awaiting vehicles.
Day 10, Farewell
Fly to Xining in the morning, and take an onward flight to Beijing. Farewell.
Gechak Extension
Day 10, Yushu /Gechak Nunnery
Continue your expedition into the ancient kingdom of Nangchen: enjoy the scenic drive along the national road G214 (~280km /174mi, paved and in good condition), with rest stops to stretch legs, meet local nomads at their yak-haired tents, or photograph the impressive scenery at Jiangxi National Forest. Afterwards, drive onto a dirt road on grasslands (46km /29mi) to reach Jichu Village (Jiqu Village).
At Jichu, walk the pilgrimage circuit of Gyamar Mani Temple. Continue the drive (32km /20mi) along Jichu River (a headstream of Lancang River) and later onto the rolling mountains to Gechak Nunnery (4,500m /14,764ft) – blocks of drab buildings hidden in the green mountains. Fully serviced and equipped camping for 2 nights.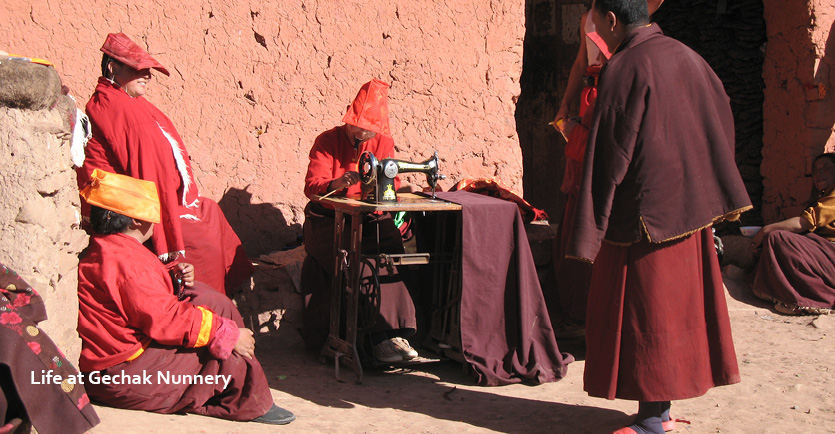 Day 11, Gechak Nunnery
Visit the nunnery, and meet the friendly nuns who rarely have guests from the outside. Opt to join their prayer ceremony. Founded in 1893, Gechak Nunney is the largest and most important nunnery of Nyingmapa (Red sect) of Tibetan Buddhism in Qinghai, with more than 500 nuns nowadays.
After lunch at the nunnery, trek into the scenic mountains (~9km /6mi, 3-4hrs), and enjoy the astonishingly beautiful landscape along the way. Return to your campsite in the late afternoon, and have some time at leisure. This evening, fall asleep under the clear starlit sky.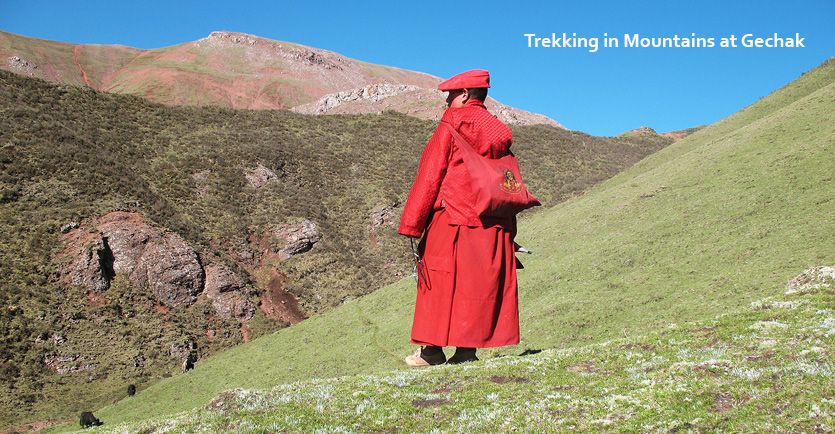 Day 12, Gechak Nunnery /Yushu
Drive back to Yushu, through a shorter route via Rancha Grand Canyon and Jinisai Village. En route, take an easy hike at Xurong Gar Valley (flexible, 1-2hrs for 3-6km /2-4mi). At Sharnda, the capital of Nangchen County, stop to photograph the majestic Lancang River (Mekong River). Continue the drive to Yushu. Deluxe Room at Yushu Qinggan Hotel for 1 night.
Day 13, Farewell
Fly to Xining in the morning, and take an onward flight to Beijing. Farewell.
Dates & Prices
Dates
2023, all year round, with July and August best recommended.
Prices
For a private group of 2 guests traveling together, each guest USD5,580
For a private group of 5 guests traveling together, each guest USD4,490
For a private group of 8 guests traveling together, each guest USD4,060
Internal Airfare
All internal flights of economy class, starting from Beijing till Beijing, each guest USD1,090
Gechak Extension
For a private group of 2 guests traveling together, each guest USD1,990
For a private group of 5 guests traveling together, each guest USD1,810
For a private group of 8 guests traveling together, each guest USD1,620
All inclusive and fully serviced for your journey duration in China
All hotel accommodation on double occupancy;
All meals;
All transportation (Toyota Land Cruisers for Yushu from Day 5 till Day 13, with every three persons sharing one vehicle);
All tour and event plans, with the service of an English speaking guide and a driver, starting from arrival to departure at the airport of each destination;
Plus proper flexibility and 24/7 immediate support.
Notes
1, For guests who take single occupancy for all hotel accommodation, a single supplement of USD920 for Main Program, or USD1,100 for Main Program & Gechak Extension, will be charged.
2, Gechak Extension (Day 10 – 13) is considered moderate to challenging. Before you plan to include Gechak Extension, please contact your trip planner for more details, or you book the Main Program only (Day 1 – 10).
3, The price of Gechak Extension includes a donation of USD100 each guest to Gechack Nunnery.
4, Guests will need to take care of the international flights to and from Beijing, passport and China visa, travel insurance, personal expenses on trip, and optional gratuities to your guides and drivers.
Star Records
Thoroughly researched and developed to feature the best hotels and experiences available, our expeditions are continuously updated and perfected with the incorporation of new opportunities for you to engage with the places and people you visit.